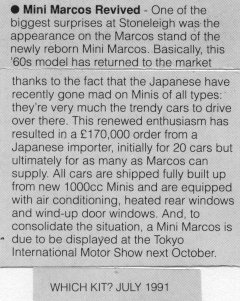 Which Kit?, July 1991
Left: Club Chat - Pickett's Lock Show
Club wins best stand. John and Pat Marr (2nd and 3rd from right) with their Mini Marcos.
Richard Porter is on the right and would like to be reminded who the others were.
Right: Stoneleigh Snips... Mini Marcos Revived
Newsof the Mini Marcos relaunch at the Stoneleigh kit car show.
Last updated 27th February, 2013