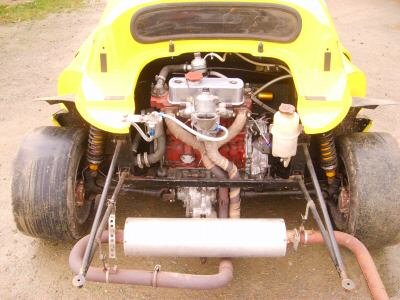 Davrian Mk.8 Hillclimb Car
Stuart Cleevely's Mini-engined Davrian which has been offered for sale. The Mk.8 Davrian was the last in the line before Tim Duffy (of DARRIAN sports cars) started producing the Darrian T90 (which is an inch longer and wider than the Davrian).

The Davrian Mk.8 is a mid-engined fibreglass monocoque with a foam filled saftey cell and an integral roll cage. The spec is as follows.: 1360cc fast road Mini engine with single HIF44, Mk.1 gearbox with close ratio gears and a Tran-X four pin diff, 3.7:1 final drive, Hardy Spicer drive shafts, oil coole,r front mounted rad Spax coilovers all round, discs all round, Revolution 13 x 10 inch wide rims at the rear and 13 x 8 inch wide at the front.

New Davrian Register.
Last updated 8th June, 2009