Search Results
| | |
| --- | --- |
| Pages: 1 | Showing 1 - 10 (10 found out of 10 possible) |
I have just found a YouTube. It seems that the pickup is built into the tank and what I need is the outlet pipe that screws into the tank. That is a lot easier to find!
Ron Murrell
Sydney
My fuel tank came with no fitting for the fuel pickup. Does anyone know of a source of a new one before I go around looking for a secondhand one?
regards
Ron Murrell
sydney
I would love one but, unfortunately I'm in Sydney. I have sent an email enquiring whether there is any possibility of sending.
Very nice. An inspiration to me as I strive to get my Jem finished.
Ron Murrell
Sydney
On the Mk4 there are metal inserts at the end of the cross member, with a large plate attached that were glassed in to the inner wing.

Some years back I made my own replacements, but no longer have access to the facilities that I used.

However M-Machine make cross member end repair sections that you can use.  They do not have the plate attached for the inner wing, but that should be easy for a decent fabrication shop to add (the plate also has the locating holes for the top shock absorber mounts, and does not need to be as big as it was originally).

You will also have to rebuild the end sections of your cross member from fibreglass by the looks of it.
Uploaded for Jens. Hope this works.
Hello I have startet doing my Marcos, need pictures of inner wing both sides, I have stripped down the one side, and noticed some metal on inner wing, where the cross member attached, is it correct, that I have to put in a metal plate to stiff the whole thing? I can not for the time being attach any photo, Roger is on the case

Okay - so after a bit of reassurance here please.
This is a photo of my starter motor area, in particular the red +ve connection.  (Not the clearest of photo's I'm afraid)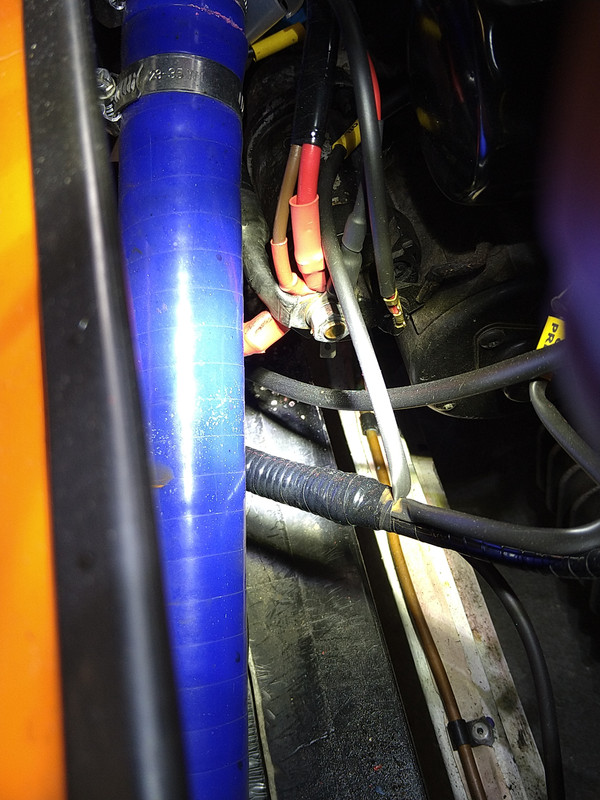 Am I correct in thinking it is from here that I take the power to connect to the Relay (connection '30')?
Thank you.
Received through the post this week: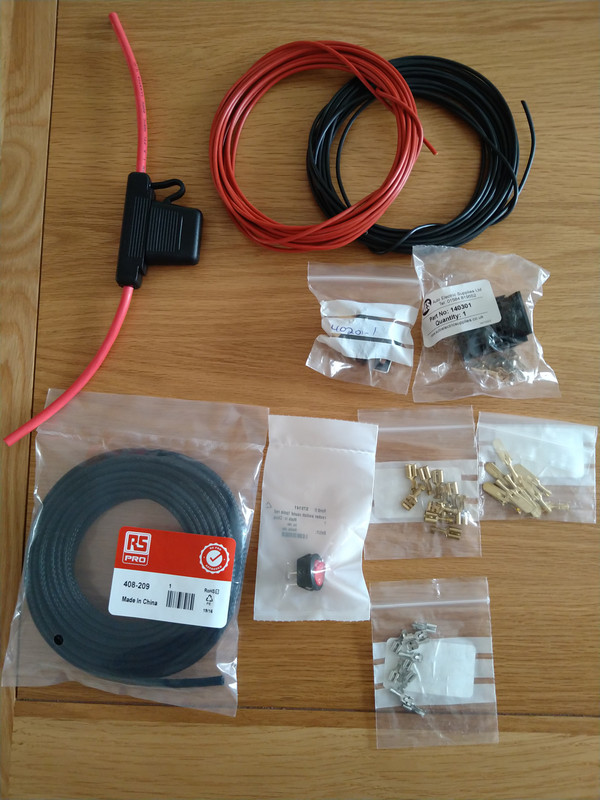 Relay & holder, plenty of black & red 17.5Amp cable (I did think about trying to match the MPi loom wire colours, but I'll be marking these cables up with a tag so this was an easier option), plenty of spare connectors.
I purchased the maxi fuse size inline fuse holder as it was only a few quid - I haven't as yet been able to locate a regular size blade fuse inline holder rated at 15A as yet, but will keep looking (until such time as I do the wiring) as it will be more convenient only carrying one size (not rating) of spare fuse.
 
I bought the switch from RS (along with some cable covering to try and make it look like a 'proper job')- I think it'll be okay (for IVA), the edge profile being similar to the other rectangular rocker switches, but I might hide it away under the dash for the test and mount it correctly on the dash afterwards.

Re-reading Mr Dickens book, he mentions he prefers not to wire the fan through the ignition (albeit he controls the fan with a temperature switch).  I'm tempted - in the name of simplicity in my case, to revisit whether I wire the fan directly i.e. leave out the ignition switch.

Also received the mounting feet for the second fan, which I'd forgotten to order with the fan!
Thanks Craig. I didn't realise I'd selected a relay with a diode - no need for that I think. So I'll look to keep it simple (of course) and get the bits ordered.
Cheers.
| | |
| --- | --- |
| Pages: 1 | Showing 1 - 10 (10 found out of 10 possible) |