Search Results
| | |
| --- | --- |
| Pages: 1 | Showing 1 - 10 (10 found out of 10 possible) |
I've just pulled the spark plugs - wet and smell of petrol.
They wiped/brushed easily and look like new (they aren't very old to be fair). I've checked the gap too, and put them back in for now. Mike - I'll give the blow torch idea a go but I don't have a car to hook up the jump lead to at the minute and didn't fancy leaving the plugs out.
I should be able to give the car another try on Friday.
Thinking about it, there's obviously fuel getting through. The car was trying to start, so there must be a spark of some kind (can check that it's all four cylinders on Friday). The only thing thats changed is the lambda. Hmm...
I use Halfords occasionally for some things, it's only a five minute walk away but there is a local motor factors which I prefer to support. A few years back I bought a battery from Halfords for the MM, which was useful when it packed in (due to a faulty alternator) as I had to carry it there to get it replaced!
Halfords actually charge trade card holders more than retail sometimes as they charge full price to trade cards when and item is on offer, ask me how I know 😠.
Re plugs try warming them with a blow torch then put them back in and try starting. We've found the combination of heat and flame cleaning can help persuade an engine into life.
Mike
Well - it's official. Halfords has become rubbish!
I've used Halfords for years holding a trade card for close to two decades. I'd noticed a few years ago that the discounts offered on items in store is nowhere near what it was.
A couple of weeks ago I changed the oil on the bike and went to buy some oil filters - I normally buy four at a time but was down to my last one- I needed more oil so thought I'd restock at the same time, only to find out that they no longer stock items such as this for motorcycles.
Today I went to buy spark plugs for the MM as mentioned above, only to find out that they no longer hold spark plugs in store!
But it's okay - they can order them in. At £14! Each!!!
Hmm... no thanks.

No doubt I'll still use them for oil (but only when I'm in the area of a store will I stock up), but my local motor factors - which is actually closer, holds items in stock and if not held will order/deliver FoC if not on the shelf.

Oh well - at least I saved 50p (trade discount) on a Halfords spark plug brush, which I'll try until I can get some new plugs!

Sorry - rant over.

Just tried to start the car. It wanted to start, but didn't!
A new set of plugs the first step I think, followed by the lambda sensor

Thanks for the link Neil. I'll have a look at that once I've sorted this first problem out
My fans are indipendant of each other, they are both controlled through a Davies Craig temperature gauge/fan controller †and relay set up that allows me to set the cut in temp of each individually. †From memory one is set to turn on at 82deg and the second at 90deg. There is also a manual over-ride to turn them both on if needs be.

I have used two waterproof connectors canabalised from some wrecks in a local scrap yard.

Here is a link to the installation instructions with the wiring diagram, I have it set up as on page 3.

https://daviescraig.com.au/med.....2950022-May-2020.pdf


I was planning to go out into the garage this morning, but after taking the dog out for a walk have decided it's far too cold.
It's a lovely morning, but bitterly cold:

Plugs were dirty/wet: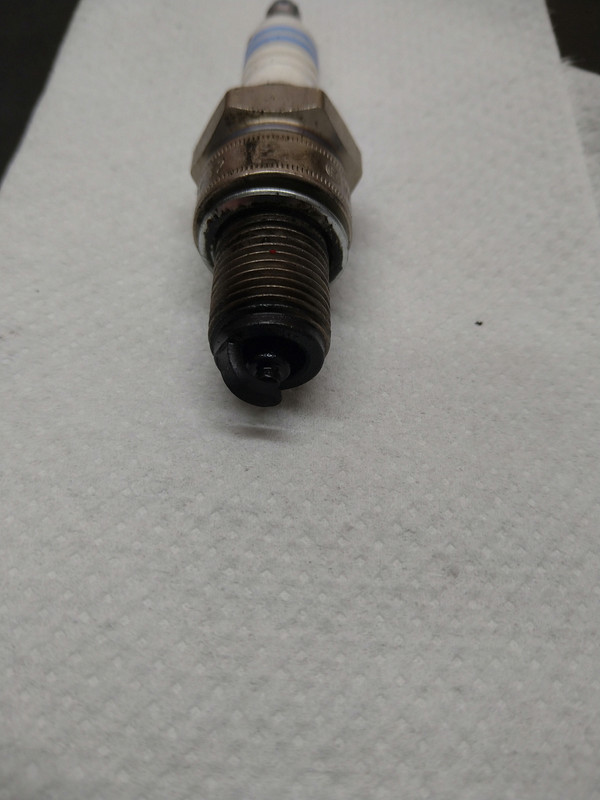 At least they wiped clean okay.
Not sure if this is from the attempts to start yesterday, or something else.
Worth trying a new set, do you think?
Neil, the connector in the photo looks similar to what I currently have fitted (great if it is - just plug and play) but are you saying that you wired both fans into the one connector?
Was it a specific connector i.e. two separate inputs with a common output? †Or simply fitting both fan wires into a single input/output connector? †I take it both fans now come on at the same time (for more rapid cooling).
(Sorry if this is a simple question - electrics really aren't my thing!)

Craig - I might be in contact regarding these but it might have to wait a little.

I went to start the car yesterday - it hasn't been started for almost two weeks, and not since I changed the lambda sensor, and while there was a couple of coughs it wouldn't catch.
The battery has been on a Halfords smart charger (effectively a winter trickle charge), and I ended up fitting jump leads too, to no avail.
I've had the battery on charge overnight so I'll hopefully try again today (I'll fit the jump leads straight away to try and give it an extra kick).
I'll also pull a plug and have a look at the colour of it - I should've done this before now perhaps, to see that the cars running leaner than it was. †And if I can't get the car started perhaps try and refit the old lambda (that being the only part that's physically changed since it last ran).
Any other suggestions that might help get it running welcome (I remember my Dad warming the plugs in the oven years ago. †Not sure if this was to dry them after flooding, or to assist in getting the car started).

ETA - I was in the middle of sorting the speedo cable and throttle cable reworks when I decided to start the car, trying to progress the build. Two steps forward, one step back....
Hi Graham,

I supply the Rads / Fans to club members.

Feel free to email me - editor@ as in the magazine.
| | |
| --- | --- |
| Pages: 1 | Showing 1 - 10 (10 found out of 10 possible) |