I introduced myself to Jem Marsh at the 1965 Racing Car Show and told him I had a client in France who was interested in importing the Mini Marcos kits,
and that there was the possibility of a Le Mans entry. At the time I was in business producing an aftermarket dashboard for Minis and selling a lot to Jean Louis Marnat's accessory shop in Paris, Rallye Auto Sport.
I had met Marnat hill-climbing in France in '62 while a student at Grenoble University France. He was racing Minis, my mount was a Lawrencetune Morgan Plus 4 Supersport, but he admired a dash I had made for my wife's Mini Cooper to tidy up the installation of a rev counter. He placed an order for ten or so, then a further hundred and eventually thousands. By 1964 I had set up a small company in London to manufacture and market the dash as well as Mini derived accessories.
Jem Marsh was keen to get a Le Mans entry, as he had not had an 'invitation'. The Automobile Club de l'Ouest, which runs the race was autocratic and selective about whom it allowed to compete. They also had a reputation for moving the goalposts for any foreign entry who threatened victory in the race's Index of Performance category, with rules so Byzantine in complexity that clearly favored underpowered French cars. They had not anticipated Colin Chapman's 750cc Climax powered Lotus 11 and had to resort to rewriting the interpretation of the rules. A slight from which Chapman never really recovered, and swore to never go again.
So it was clear the ACO was not going to invite a British Kit Car Manufacturer to race what was basically a re-shelled Mini Cooper Special. But if the drivers were French, the car assembled in France and the entry was French then this was a different matter. Jem agreed to allocate the distribution rights for France if a Le Mans entry was forthcoming, and we formed a Limited Company, Dulles Components Ltd. to market the Mini Marcos on the Continent. I was dispatched with the factory Mk I demonstrator on a tour of Belgium, Germany and Switzerland and came back with several orders.
Marnat confirmed that the ACO would invite them to apply for a Le Mans entry, with JC Ballot-Léna as co-driver, JP Jabouille and Trautmann as reserves. Jem Marsh agreed to supply them with a light weight shell to build up. Photographer john d. green (he always signed his work in lower case) had had a spectacular accident at Brands Hatch in a Mini Marcos which had made the tabloid newspapers. There was a series of pictures with the car disintegrating around him and John sliding along the track amidst the debris. This was not good publicity and called into question the structural integrity of the shell. So Jem wanted to ensure there was some re-enforcement in the shell and was not prepared to let them race in a standard chassis/body unit.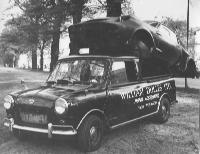 I delivered the shell on the back of my Mini Pickup (pictured right in Hyde Park) via Silver City Airlines. They operated Bristol Freighter Aircraft from Lydd in Kent to Le Touquet, and if you made the first flight of the morning you could get to Paris in time for lunch. Whether you got back to London the same day depended on how long you took over lunch! I suspect that slowed by the extra windage it was probably a late lunch that trip.
Jean Louis Marnat was in the process of selling Rallye Auto Sport, his accessory shop in the Rue Jules Guesde to the brothers Finkel. There was a small workshop next door with two mechanics for fitting steering wheels etc., bought from RAS, run by Jean Claude Hrubon.
He built up the Le Mans car. In the photo he is in white Marcos badged overalls with his hands in pockets, with the moustache. I delivered the shell, and met a mysterious Monsieur Giroud, friend of the Finkel's who was putting up some money for the Le Mans effort.
Then I was asked to supply a Mini van, essentially for the paperwork and the chassis plate, because the regulations for registering a kit car in France were lengthy and complex as they still are to this day, involving an evaluation by the French Ministry of Mines of all people! I bought a rather tired Mini van for 50 quid from Mike Pigneguy, and Jem Marsh and I drove it over to Paris to see how they were getting on with putting the car together.
We rather wished we had stayed away, as they were making heavy weather of it and it looked like a disaster about to happen. They could not get the ride height right and we had to tell them how much to machine off the suspension trumpets. The French had suddenly discovered negative camber suspension geometry; remember the R8 Gordini Renaults and the Alpine 110? They wanted longer lower front wishbones and undrilled outer rear trunnion support brackets to achieve negative camber on the front and rear. They had no alloy wheels, as there was a wait list for Minilites and they were experiencing cooling problems. I bought some mag. wheels from Chris Lawrence which he had left over from his Deep Sanderson Le Mans entry, which I think originally had been sand cast by the Cooper Car Co. The mould making machinery was later cleaned up and redesigned for pressure die casting by Minilite.
They resolved the cooling problem by fitting two radiators. What the weight must have been I hate to think.
The Engine.
Jean Louis Marnat had semi-works status with the Parisian Austin importer JP Richard. (Morris Minis were imported by another concessionaire in Paris). Under his contract he had a discount on spares, the use of a rental car when practicing and could draw two tuned engine/gearbox units from BMC Abingdon Special Tuning Dept. Marnat did not speak English so I went on his behalf, to see Stuart Turner, Head of the BMC Competitions Dept. and asked him whether Marnat could draw one engine for the Le Mans Marcos. He was not too keen, but recognized that he, Marnat, could draw two engines and do what he liked with them, so agreed on condition that the engine would not be attributable. A retirement at Le Mans could only mean poor publicity for BMC who were on the crest of a wave and gearing up for possibly their third Monte Carlo Rally victory.
I also warned Stuart Turner, at that time, that the French were massing efforts to deny BMC a third victory at Monte Carlo. French honor was at stake, and although the Citroen Team were outclassed on power to weight ratio they were not going let the Brits win whatever the outcome. Turner, who was a fine tactician, was rather indignant about my revelation, and said that they had gone through the regulations and the homologation papers with a fine tooth comb, and had found nothing to outlaw the spec of the Rally cars. Of course this was the year of single filament Halogen lights which switched to the fog/driving lights on dipping. The rest is history, after winning on the road, BMC were disqualified and sadly my prediction proved correct.
I delivered the Special Tuning engine to Paris in the back of my pick-up. It was a standard Rally tune engine in Group II configuration, with straight cut close ratio box, LSD and I bought them a 2.49-1 drive pinion set from Jack Knight I think. Anyway it was the highest ratio that could fit in the case. The French just dropped the engine in and arrived for race practice with virtually no miles on the clock. The engine was a little tight at the beginning of the race but was running much better towards the end. They simply had not run it in!
By the time Le Mans came round in June I had built up the Mk II/III demonstrator which bore the registration 270 DGJ. I think I must have driven it to Le Mans, but it handled badly and I suspected that the lugs that located the steering rack were in the wrong place, causing 'bump steer', and I was not about to let anyone else drive it.
I asked Jean-Pierre Jabouille what he thought of the handling of the Le Mans car and he said it was very quick ".......come un Formule" - just like a Formula Junior. I suspect he too was experiencing bump steer. But we were not too critical in those days. Limited Slip diffs were a bit savage in their action and we learned to expect feed back and weaving in the steering. It was hard to make an objective analysis, although I had several discussions with Jem Marsh about this problem.
We were also not happy that the French had mounted wheel spacers behind the alloys and had to widen the wheel arches. I think this was done for purely commercial reasons as they sold wheel spacers, making out that wheel spacers improved road holding, when they were only devised for fitting a wide rim to a standard hub. We just hoped the studs would hold for the duration of the race.
The rest is already well documented. The Mini Marcos was the only British car to finish that year, and Jem Marsh hoped we would have won the Motor Trophy, but they said it had to be a British Entrant, so we didn't.
Fiorini, former Ferrari Team Manger (of leading Ferrari running out of fuel fame) was at Le Mans recruiting entrants for a revival of the Gran Premio di Mugello. Jem and I thought that we could not pass up this opportunity in view of the starting money offered, and I have written elsewhere of our, at times hilarious, involvement in that.
Jean Louis Marnat was offered a works Triumph Spitfire drive the following year at Le Mans, and had a near fatal crash in front of the pits when overcome by carbon dioxide fumes. Newsreel footage of the crash was later incorporated in Claude Lelouche's wonderful film 'Un Homme et Une Femme' (A Man and a Woman).
He survived and opened a new Accessory Shop in the Rue Brunel in Paris. I met a Frenchman at the Pebble Beach Concourse last year who had a whole inventory of Jean Louis Marnat stock. Period Les Leston badges, key fobs and stuff like that. I understand Jean Louis died, but do not know of the circumstances.
Claude Ballot-Léna (left) was a terribly nice guy and I was sad to learn of his death.
I see that the '66 Le Mans car also showed at Monza, which was presumably a shake-down after qualification for Le Mans, but don't know the result. You can see the Paddy Hopkirk quick release rocker cover knurled bolts. Another stock show item, but it did prevent one overtorquing and distorting the rocker cover.
Words and photographs by Billy Dulles (plus some press photos)