Mini Jem Mk. I, 1021, LVD 572F (GB), Owner: Sylvain Gauffre (F)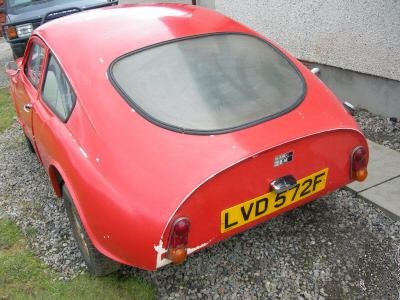 We have recently been contacted by one of the car's builders, Keith Jackson. Keith writes:

"We had seen a Jem raced by Wigtown Engineering at Ingliston and thought it would be cheap to run and maintain. My brother and I were students of Engineering and Law aged 19 and 17 respectively, living east of Glasgow. In 1967 the shell cost £250 and the rest came from an 850 Mini van which my brother had conveniently written off under the back of a lorry (with me in it) and cost £30 to buy back from the insurance company. We had the car on the road for about £350.

"We shared the Jem until 1970 after which I ran it until 1975, having installed an 1100 engine to tour Europe in 1972. In all the car clocked up about 150,000 miles, although it was a bit accident prone. I sold the Jem in about 1982 to a chap in Blackwood, Lanarkshire and that was the last I heard of it."

We're as pleased to hear about the history of the car as Keith is to know that it's still around and being cared for. The last photo shows the car in its early days (K. Jackson).
---
Last updated Ides March, 2013